FLEXOGRAPHY
Details

Written by

Elisa D. Pliakou
Flexography is a method of printing, widely used in food packaging. Its history begins in 1890, in Liverpool, England. The continuous development of technology over the years has brought improvements in print quality and production speed.
The following figure shows briefly, the way in which printing is effected using the flexographic process.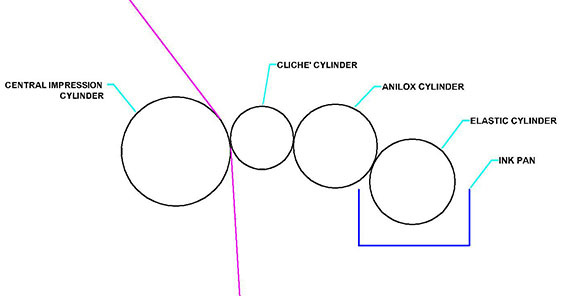 Each printing station prints a single color on the material ( paper, plastic film, aluminum etc.). More colors are achieved by combining the basic colors.
Ink in transferred to the anilox through the elastic cylinder -> The anilox, which is consisted of millions of cells, according to its analysis, transfers the correct amount of ink to the cliché cylinder -> Cliche' cylinder, which carries the cliche' plate with the image that we want to print, prints the image on the material with the aid of the impression cylinder.
Advantages of Flexographic Printers:
•Low cost.
•Easy to operate.
•Good printing quality.
•High production speeds.
•Eco friendly. The machines can use waterbased inks .The use of such inks reduces significantly the rates of VOC's (volatile organic compounds) that are harmful to human and animal health in the long term.